Pub&Bed#24 includes more sketches and information from these Aussie NOBA Specials.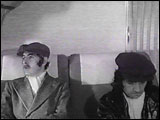 PETE AND DUD HOMEWARD BOUND
[ PETE and DUD take their seats on a plane for the flight home. DUD starts fidgeting around in his seat. ]
PETE: Oh do stop messing about with those flight instructions and socks and everything.

DUD: Look! [holds up a sleeping mask] Some little lady's left her bra behind.

PETE: You put that over your eyes when you want to go to sleep.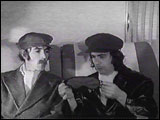 DUD: I'm not putting a used lady's bra over my eyes, mate.

PETE: That is not a used lady's bra, it is a brand new sleeping mask.

DUD: Oh. [Puts mask on] High-ho Silver and away!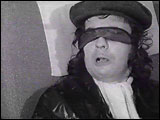 PETE: I refuse to play Tonto to your Lone Ranger. Get if off and stop messing about.

[ STEWARDESS approaches ]

STEWARDESS: Champagne, sir?

DUD: No thanks. Just a cup of tea and two straws for my friend and me.

PETE: On second thoughts, lovely hostess, I'll have a pint of draught Tia Maria if you have it. Thank you.

DUD: Thank you. [She exits] Lovely lady that, aint it?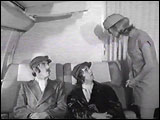 PETE: Oh yes.

DUD: It's amazing to think, Pete, that in a mere thirty-five hours we're going to be back in Beacontree Avenue, Dagenham, dear old Dagenham, tanned and fit after the hospitality of the sunny antipodeans.

PETE: Tell me, Dud, what memories, apart from those fourteen full page photo blow-ups from page three of the Sydney Sunday Mirror, which memories will you treasure most of your visit to this vast and hospitable continent?

DUD: Tricky one. I think possibly the sounds of nature, Pete. The lilting burp of the Coca-Cola Bears as they hiccup in the eucalyptus tree.

PETE: Oh yes. Not to mention the ceaseless humming of the cicadas as they rub their legs against each other in an attempt to attract their mate.

DUD: Not to mention the ceaseless humming of the Australians as they rub their legs against each other having already attracted their mate.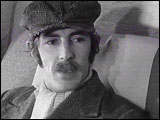 PETE: Well, you know what makes them so virile? It's all this sun and fresh air.

DUD: And the fresh beer.

PETE: That helps a lot as well. Mind you, I think the Australian male tends to treat the opposite sex, i.e. the er -

DUD: Ladies.

PETE: - to coin a phrase, ladies, tends to treat them with less deference and politeness than their pulchritude deserves.
DUD: I think the Australian lady appreciates the 'olde worlde' charm of the English visitor. His touch, his inbred courtesy -

PETE: You didn't curtsey to them, did you?

DUD: No, politeness, courtesy.

PETE: I thought you meant you went down on your knees to them.

DUD: Well, I did go down on my knees to one of them, but she hit me over the head with her surf board.

PETE: Can't say I blame her. Mind you, I understand you did far rather better in Dirty Dick's Striporama See-Through Go-Go Bar?

DUD: Oh, a wonderful time. Well, I got on very well there. She was a wonderful girl. Very sweet, warm, strange, innocent creature with a diffident charm and huge knockers.

PETE: How did you hap upon her?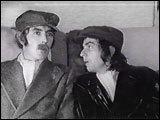 DUD: I happed upon her in a rather wonderful, romantic way. I was strolling down Kings Cross of an evening, it was quite late, a bit tuckered out, and I thought, "Well, why not pop down to Dirty Dick's for a cup of cocoa." So I went down there and had a cup of cocoa, and then this vision, this dream came up to me and asked me for a light and a magnum of champagne. Charming gesture.


PETE: Charming gesture to you, a total stranger.

DUD: Exactly. Anyway, we got talking, you know, and she was very shy, so it was only after quite a few magnums that she started to open out a bit, you know, tell me about herself and her life.

PETE: I understand she was some kind of social worker doing rehabilitation work for American G.I.s?

DUD: Yes. A very dedicated lass. A wonderful girl. Anyway, the evening went on and we talked and that, and after the second cup of cocoa I started to get a bit, you know, randy. A bit hot pants and that. I got her onto the dance floor and we started dancing and one thing led to another -

PETE: - as it invariably does -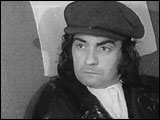 DUD: - in the human course of events. I invited her to come and listen to my collection of Slim Dusty at my pied-à-terre at Spit Point.

PETE: What did she say to this alluring invitation?

DUD: She said to me, "I thought you would never ask, my darling." My heart… Anyway, she said, "Just give me a tick, I'll be off to the powder room. Give me ten dollars to tip the cloakroom attendant and I'll be back in a jiffy." And she gave me the thumbs-up sign and I never saw her again.

PETE: What? She gave you the thumbs-up sign?

DUD: Yeah.

PETE: How, exactly?

DUD: Well, she said, "See you in a tick," and went [gives thumbs-up sign], like that.

PETE: I think you should realize, Dud, that Australia, being the other side of the world, so to speak Down Under, the thumbs-up sign Down Under is, in fact, thumbs down! In fact, thumbs-up in Australia can be a rather rude expression. I think she gave you the brush off.

DUD: Oh no, no, I don't think so. I prefer to think she was called out on some urgent social work. I don't think anything of that sort was happening at all. Anyway, I didn't bother hanging around and I whipped off about nine o'clock in the morning.

PETE: Did you catch her name?

DUD: No, she didn't give it to me, but I asked the barman afterwards and he said she was A. Pro.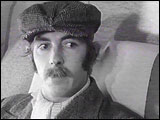 PETE: Anne? Annabel?

DUD: He didn't know. So I looked it up in the telephone directory but the only one Pro there was Albert Pro. I thought, "That can't be her." I think she must be ex-directory.

PETE: Yeah, being a shy girl maybe she likes to be ex-directory.

DUD: I think so, yeah.

PETE: Mind you, I haven't had much time while I've been here for romanticising. I've been busy wheeling and dealing on the Sydney Stock Market, and I think I've done some very good deals. I was very lucky to meet this gentleman in a telephone booth who gave me a very hot tip. Apparently there's a new company just been formed called Fly-By-Night Metal Ltd. This is very hush-hush so don't tell anybody, but they have discovered nickel under the Sydney Opera House.

DUD: Nipples?

PETE: No, nickel, the valuable ore.

DUD: Marvelous, that is. That'll give you a fortune. Well, I was lucky too, 'cos I met a gentleman who said, "Would you like to invest three dollars in this new Birdsville real estate project?"

PETE: Oh yeah?

DUD: Apparently it's going to be the holiday haunt of the '70s.

PETE: Well, it's got everything.

DUD: Miles and miles of beautiful sand.

PETE: All specially tinted red by Antonio several years ago.

DUD: It's going to be a knockout, that.

PETE: It's going to be a boomtown.

DUD: Make a fortune.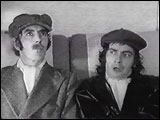 PETE: That's the wonderful thing about Australia. Look, here we are, two Pommie - you know what they call us?

DUD: Baskets?

PETE: Baskets. Here we are, only been here a few weeks, and yet already I feel accepted. Already I feel I've really been taken in.