Pub&Bed#24 includes more sketches and information from these Aussie NOBA Specials.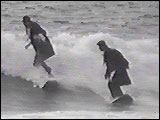 PETE AND DUD AT THE BEACH
(opening for show 2)
MUSIC: NOBA theme. We see Pete and Dud surfing in full raincoats and caps and then falling off their boards. PETE and DUD emerge from the sea soaking wet, PETE pulling DUD forward.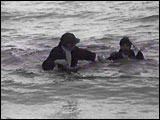 DUD: Sea's not too rough, is it?

PETE: No, it's nice and warm.
DUD: Nice and cold.
PETE: Got quite a lot of sand in me plimsolls.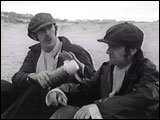 DUD: Oh dear. [coughs]

PETE: Fancy a nice cup of tea after the wipeout?

DUD: I had a couple of gallons of seawater while I was out there.

PETE: Let's just do some sun-bathing then.

DUD: Right. Mind you, only ten seconds each side, 'cos the sun's very deceptive behind those clouds. You get burnt to a frazzle. Right?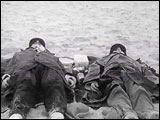 PETE: Right.

[They lie on the beach, still fully dressed, face up]

PETE & DUD [very fast in unison]: 1-2-3-4-5-6-7-8-9-10

[They turn over on to their fronts]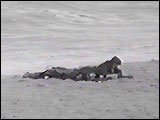 DUD [sleepily]: One.

PETE [sleepily]: Two.

DUD: Threeee.

PETE: Fooour.