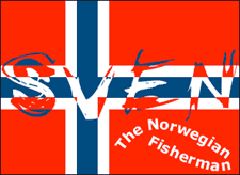 It was Rainbow George, who in about 1988, realised just about anyone could telephone LBC Radio and say almost anything, live on air.
Between 1988 and 1992, under the guise of Sven, the Norwegian Fisherman, Peter Cook took to calling Clive Bull's late night/early morning show.
The calls were often tinged with [mock?] sadness, detailing Sven's despair at the state of his relationship with his wife Yuta, and of course fish.
As far as we know, we are only missing one of the calls Peter Cook made as Sven - if you can provide us with a copy, please contact The Establishment.