[ If anyone can provide us with video footage of 'The Two of Us', starring Peter Cook & Mimi Kennedy please get in touch with Anne T'ing. We are capable of utilising any format, whether it be vhs(UK or US), betamax, or original rushes. ]
---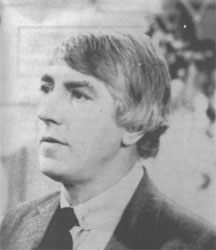 PHOTOGRAPH ACCOMPANYING ARTICLE
'I SAY!'
Peter Cook of 'The Two Of Us' does frequently, with wit.
Peter Cook, who stars as the veddy propuh butler, Robert Brentwood in The Two Of Us, seen Monday nights on CBS is an actor, satirist, playwright and director of British theater.
Born in Torquay, England, and educated at Radley School and Pembroke College, Cambridge, he began writing in school, submitting items to a British humor magazine. Then he started his own humor magazine, "Private Eye," which soon overtook its competitor in circulation.
Believing he would follow his father into the foreign service, Cook appeared in college theater productions strictly for fun. But he got hooked on acting and writing and became president of The Footlights, a revue club.
At an Edinburgh Festival, Cook met Dudley Moore and they formed the satirical comedy group, "Beyond The Fringe," with Alan Bennett and Jonathan Miller. After a year's run in London, the show opened in New York, where Cook won a Tony Award.
In 1972, Cook and Moore toured Australia with their two-man show, "Behind The Fridge" (a spoof of "Beyond The Fringe"), which Cook co-authored. The show opened on Broadway as "Good Evening," and Cook received his second Tony Award for it.
Cook's motion pictures include "A Dandy In Aspic," "The Rise And Rise Of Michael Rimmer," "The Wrong Box" (with Moore), "Monte Carlo Or Bust," "The Bed Sitting Room" and "Bedazzled," which was written by Cook and scored by Moore.
His BBC television credits include the hit series Not Only . . . But Also, and Mr. Wistey, and "Peter Cook And Company," a comedy special he wrote and starred in. On American television, he has hosted Saturday Night Live and appeared on national talk shows. He won a Grammy Award for his comedy album of "Good Evening."
Cook lives in Hampstead, England, with his wife, Judy, and his two daughters, Lucy and Daisy, from a former marriage. An avid golfer and gambler, he is 6'2" tall, weighs 175 pounds and has gray hair and blue eyes.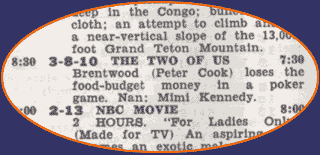 Listing is for Monday 9th November 1981