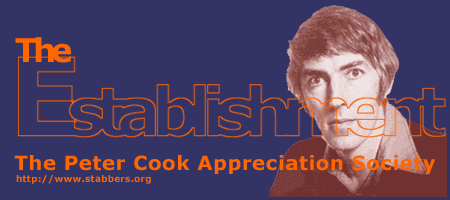 ÆSOP
revisited
by
Willie Rushton
&
Christopher Booker.
First Published in Private Eye
Issue No.6 10 March 1962.
©Private Eye
COMING SOON TO
THE ESTABLISHMENT . . .
Peter Cook Presents The Misty Mr. Wisty LP
audio files taken from the wonderful 1965 album.
Peter Cook Docu
as we were asked to contribute 'ideas' for the Carlton TV "Legends" docu, I thought I'd make it available via the site.
Would you like us to notify you, via email, each time we update The Establishment?
Hosted by Yahoo!, this list is used only to announce updates at www.stabbers.org and is in no way supposed to replace the Peter Cook eMail List.