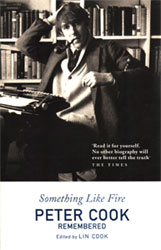 NOT THE PETER COOK I KNEW
(Evening Standard, 29 August 1997)
I was surprised by all the reviews for my late husband's unauthorised biography. Harry Thompson (Letters, 21 August) thought Barry Took's review (Books, 18 August) vitriolic. On the contrary, I thought Mr Took was too kind and it was generous of him to suggest to readers to wait for the paperback.
Mr Took was also too vague when he mentioned that Mr Thompson quoted from Something Like Fire: Peter Cook Remembered (the book of tributes that I edited) "more than 50 times".
From between Chapter Two and Chapter 17, the last chapter, of Mr Thompson's book he used no fewer than 70 quotes from "my book". Mr Thompson did well not to need any quotes for Chapter One of his book.
I would like to point out further that none of the reviewers, including Mr Took, could possibly have been aware that the last two chapters (1983-89 and 1989-95) of Harry Thompson's book contain at least 70 factual errors. Space does not permit me to list conversations and events, described by Mr Thompson with great zest, which did not occur.
Just prior to publication, Mr Thompson had wished me to check only about a dozen points with me, and I spent some two hours trying to put him straight then. He took offence that I had described what he sent me as "rubbish". My apologies to Mr Thompson, he did not write "rubbish": the appropriate word was "fiction".
I lived with Peter for some 10 years, the last five as his wife. I can vouch that there is very little fact in what was written in the final chunk of Mr Thompson's book, which consisted largely of references to innumerable Press cuttings and books by other authors.
An ambulance was called on 2 January to take Peter to hospital. He was extremely weak and absolutely quiet. A friend and neighbour, George, was already in our house as Peter was taken out in a stretcher and George had accompanied us to hospital. I find it immensely insensitive and unnecessary to read Mr Thompson's inexplicable account as follows:
"On the evening of 3 January an ambulance was called and Peter was lifted gently on to a stretcher. George came out into the street to see him go. Peter gripped his hand and breathed: 'Will I be OK, George? Will I be all right?' Without stopping to ponder his less than 100 per sent predictive record, George reassured him: 'You'll be fine, Peter. Everything's going to be just fine,' he insisted. 'Oh f***,' replied Peter, his fate sealed. It was his last joke. George watched the ambulance drive away. 'I love you,' he said, as it disappeared up the street."
It is appalling that Mr Thompson should record a most distressing event so outrageously. Not only was the date wrong, but an entire conversation was made up. My late husband was in no state for handgripping, conversation or jokes, and this can be easily verified by the ambulance attendants or George.
Lastly, Mr Thompson was wrong to refer to Mr Took's "financial interest" with regard to Something Like Fire, to which Mr Took did indeed make a valued contribution. It sold a vast number of copies, but its sales do not benefit Mr Took financially.
If one talks of financial interest, it would seem this was on Mr Thompson's mind in his haste to compile Peter Cook's biography, less than two months after his death, and producing it in record time without being responsible enough to verify his facts. The person Mr Thompson described is not the Peter I knew.
Lin Cook, Perrins Walk, NW3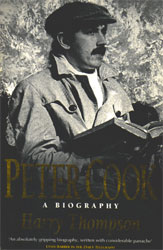 REFLECTIONS ON PETER COOK
(Evening Standard, 4 September 1997)
Lin Cook writes to complain that my biography of Peter Cook does not accurately reflect its subject, and she makes a number of accusations I would like to rebut.
That I have misreported Peter Cook's final conversation with his neighbour George Weiss. On the contrary, I have a tape recording of Mr Weiss telling me the story exactly as reported.
That I completed my book "in record time" in search of a quick financial killing. In fact, it took two-and-a-half years. A year longer than hers.
That I got the date of Peter's final admission to hospital (3 January 1995) wrong, and that he was actually admitted on 2 January. In fact, Mrs Cook telephoned Peter's family on the evening of the third, to tell them that Peter was dying in hospital. It was they who told me that he had been admitted that evening. The hospital confirmed this date subsequently.
Harry Thompson, Craven Hill Gardens, W2

TAPE THAT I'D LIKE TO HEAR
(Evening Standard, date unknown)
As I have not read yet Harry Thompson's biography of my late neighbour Peter Cook, I cannot fairly comment on the overall factual accuracy of its contents.
However, having skimmed through more than a score of references to myself, concerning alleged conversations and events, I feel moved to state categorically that the gospel according to Harry is, as far as I am concerned, truly apocryphal.
I shall suffice myself by challenging Harry to produce the tape, the possession of which he claims confirms that what he has written is exactly what I said, as I know it does not exist.
Harry also seems bewilderingly at pains to assert that Peter was admitted to the Royal Free Hospital on 3 January. This is not so, as several others can confirm, including my friend whose son was born there on the morning of 2 January, which was somewhat ironic.
George Weiss, Perrins Walk, NW3